Machineries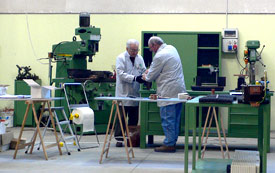 For further information, please kindly go to the download page and download the presentation of our society (.zip 11 Mb)

MAGGI S.p.A. studies, designs and manufacture Resistance Welding Machines (mostly welding presses) following the most advanced technologies known today.
The Technologies adopted are:
Traditional Single Phase Welding, Three Phase frequency converter, Medium Frequency, Capacitor Discharge. In the new building, Maggi has welding machines for recherché and developments, included a big power Capacitor Discharge Welding Machine (30.000 Joule).
MAGGI S.p.A. is able to find and propose the most suitable solution for different kind of resistance welding problems.

Activities are briefly:
• Study of welding process feasibility.
• Choice of the most suitable technology (traditional Welding Single Phase, Three Phase frequency converter to Medium
Frequency, Capacitor Discharge…). The Company is very engaged on Capacitor Discharge, a technology that supplies a
enormous advantages and makes possible of welding materials that can not welded in other way; for example the
welding of copper tubes straight on steel without added or brazing material (Patent).
• Study and construction experimental equipment (also with costumers financial participation).
• Welding tests execution with own machine.
• Process conclusion.
• Economic offer for the customer.