Home l Who we are l Machineries l Where we are l References l Contact us l Download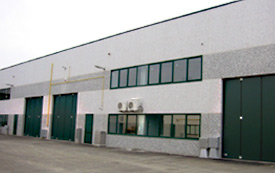 Who we are
The MAGGI s.a.s. company was started on 1991, manly to represent High Technology Companies. After few years, started to manufacture and commercialize, theirs own products and provide orders, also for Italian Companies, in the Resistance Welding Machine field.
On 1998 started also MAGGI S.p.A. From its birth, taking advantage itself
of the remarkable experience acquired by the owner, has started to design, manufacturing and sell complete Welding Systems.
Now the Company, works into a new building in Volpiano (To),
via Brandizzo 119/E.
Company outdoor

The most important peculiar feature, indeed the company's vital energy, is the RESEARCH: MAGGI S.p.A. sells own systems only after to have reached positive results. Either for their own initiative or on specific custom demands, MAGGI S.p.A. executes activities that lead to welding problem solutions. In most of cases these problems arrive to the company, after a lot of competition failures.
When the Welding System has a to big dimensions, the Company starts a collaboration with biggest Companies.
In this cases supplies: the technology knowledge to be adopted, experience, reputation, contacts with customers, commissioning and the maintenance after delivery.
These characteristics allowed MAGGI to provide business for a lot of million Euros to Companies in Turin and either in Italy or in European Country, with participations also in USA and INDIA.


Angelo Maggi

Production and Research area
Copyright © Maggi S.p.A. 2009 - Tutti i diritti riservati -
Sede Legale: Corso Vinzaglio, 9 - 10121 TORINO (TO) - Legale Rappresentante: Angelo Maggi
Iscritta al registro delle imprese di TORINO con n° iscrizione 07634150010
Capitale sociale effettivamente versato risultante dall'ultimo bilancio € 514.800,00